RD150
Remote datalogger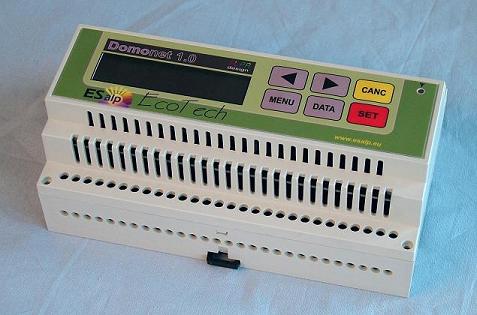 The controller Domonet captures in time different electrical and physical parameters and they are sent automatically to a remote server.
Some sensors can be connected directly to the controller, while other parameters can be acquired from compatible external devices.
To connect external devices are provided an RS232 port, an RS485, a CAN bus an an Ethernet port.
The transmission of data to the external FTP server can be done via the ethernet connection (possibly using an external router for internet access) or via the integrated GPRS modem (optional).
The programming of the controller is done using any HTTP browser, connected to the integrated HTTP server.
The unit is compatible with the system of monitoring and integrated management
E2VAN
developed by
ESALP
Specifications:
Standard Box DIN 9 modules
Requested supply: 9-35Vdc
6 insulated digital inputs (configurable as NPN or PNP), able to measure time and count pulses
Connect up to 8 ELPA digital temperature sensors
3 Analog inputs for thermocouples
4 Indipendent relay outputs (1A max)
Ethernet port 10/100Mb
User interface with alphanumeric 16x2 characters display and 6 pushbuttons
Expansion ports: RS232, RS485, CAN bus, Ethernet
Internal GPRS modem with antenna (optional)
Compatible external devices:
Photovoltaic Inverter PowerOne Aurora
Photovoltaic Inverter Santerno
Photovoltaic Inverter Ecojoule
Photovoltaic Inverter Ingecon sun
Generic device with Modbus RTU protocol
Expansion board for windpowered generator RD153
ELPA Anemometer all aluminum with ball bearing (on digital input)
ELPA digital temperature sensors
Heat counter Coster IET7xxx
Soon to be released, waiting to be verified:
Heat generator Rotex GSU
Photovoltaic Inverter Refu-sol
Photovoltaic Inverter Kaco Powador
Photovoltaic Inverter Fimer
Under development:
Photovoltaic Inverter SMA
Photovoltaic Inverter Fronius
Photovoltaic Inverter Danfoss
Photovoltaic Inverter Gefran
Photovoltaic Inverter Friem
Photovoltaic Inverter Samil Power
String-box Elvi
Photovoltaic Inverter Kostal Piko
Photovoltaic Inverter Effekta ES
Photovoltaic Inverter Schneider SunEzy
Photovoltaic Inverter Steca
Photovoltaic Inverter Mastervolt Sunmaster
Technical Documentation